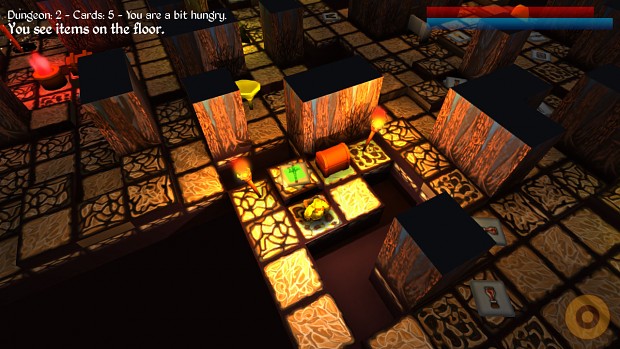 There are a lot of rogue-like rpgs out there for PC, many of which are visually impaired but offer a lot of depth and quality. Lately many of these games have followed overly typical set ups and brought nothing new to the table for those of who have played dozens of rogue-likes.
Pitman
is not typical a rogue-like rpg, it may seem so at first but it's got some heavy board game style qualities that make it feel fresh. How long these fresh ideas will last throughout the game, I'm not sure, but the demo left me seriously considering the
$2.99
price tag. Pitman starts you off in a single square of a mine and you can choose to unveil a new connecting square in any of four directions. Imagine a board game that starts off with a square and each new square is randomly picked from a box, but it will contain random enemies, random items and random objects. You have a specific number of tiles that you can place per dungeon level, but you can obtain more tiles by finding journals that will randomly be around the dungeon. You can also find scrolls that allow you to destroy tiles or rotate them, which is a nice little feature that keeps up the idea of a boardgame. On top of that there are many rpg features like leveling, random loot, inventory, spells, various types of weaponry, many different monsters to kill and a hunger system. Watch this trailer to get an idea for how the game plays out.
Sure the graphics aren't the best thing ever but come on it's a rogue-like rpg, they never have great graphics. This game was made in Unity and it came out last week for PC and Mac, but there is also an iPhone version. The demo is short and only let's you play the first level of the mine, starting you at level one, but it should give you a decent idea of what to expect from the game and I enjoyed it quite a lot. The game has plenty of detailed stats that should be simple and easy to understand for anyone familiar with role playing games in general. You can play the demo on Kongregate or you can download it from their ModDb page. Either way you have the same demo to play. Check it out and let me know what you think, I am still contemplating whether to purchase it or not but I have the feeling that I will cave at some point today. Check out the links below for more information and thanks for reading.
Main Website: http://ratking.de/
Desura Page: http://www.desura.com/games/pitman