Big things are coming for King Arthur's Gold, but probably not in the near future due to the ambitious nature of these ideas. If you've never played the game take a look at my
last post about it
, back when singleplayer was first released. To summarize it in a few sentences, King Arthur's Gold is a PC game all about medieval warfare, crafting, mining and all in a colorful 2d world. It is essentially a free game, but it has a pre-order model that lets you play more than the free players, although right now there isn't a whole ton of content specifically for those who have the paid version. Enough of that, onto the news.
There are many different server customization options on the way, also an autoupdater, but that isn't the exciting news. The first interesting tid bit has to do with the game's classes. Right now there are only three classes, builder, archer and knight. They are going to branch out each of those classes into four new specializations. Knights for instance will be able to become a knight or a barbarian, while builders now have a wood cutter, miner and several other classes. They are making all classes have varying roles in order to try to destroy the interdependence of military classes, meaning builders always need help from knights or archers, but neither of the military classes need help from anyone else. Check out a mock up of the classes below.
Another interesting thing is idea of PvE mini-games. They want to remove a large portion of stone/mining materials from the normal game maps and make doors into new mining maps. Initially miners won't need support from their team as they enter the mine, but as they dig deeper they will start running into underground dungeons and cave animals. Early on in each game players will also be part of the mining process. Military units will get practice fighting animals while miners dig for valuable materials. Trees are still going to be all over the normal maps, but now there will be woodland animals and wood will be used for various types of buildings, or just planks and ladders. It is all fairly hypothetical right now, but that is the plan.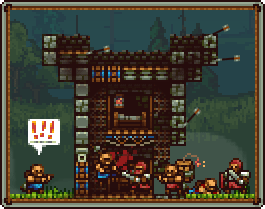 Lastly, they will be updating the interface to make it look and feel cleaner. Generally they seem to be planning to make the normal WAR mode of King Arthur's Gold into a huge map that has different levels attached to it, but still all attached to the same multiplayer game. They also have some mention of fixing up the new zombie mode for multiplayer. Check out the full post over on the King Arthur's Gold dev log. If you want to try out the game head on over to the main website below, thanks for check it out.
Main Website:
http://kag2d.com/en/
-Written by Sean Cargle